Our April monthly spice subscription boxes have shipped and it's time for the April 2018 box reveal! We're so excited to offer our recipes and spices from one of our favorite countries and cuisines. Grab a green tea and get comfortable in your chair.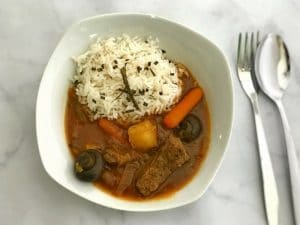 In Japan, curry with rice is considered a national dish on par with Ramen and ahead of even sushi and miso (soup)! Unlike its East Indian cousin, Japanese beef curry is mild, slightly sweet, and a little savory making it enjoyable for kids and adults alike! Our recipe for Japanese beef curry delivers an authentic flavor in about the time it takes to make any homemade stew.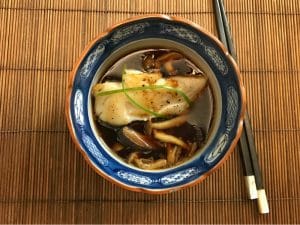 This Japanese inspired dish appears deceptively simple. Just a few ingredients are selected to provide complex layers of flavor. Featuring seared black cod, a white fish with a velvety texture and a rich, buttery taste, the sweet and salty broth, shines brightest and delivers umami from the Shiitake mushrooms with a peppery-grapefruit note from Sansho pepper.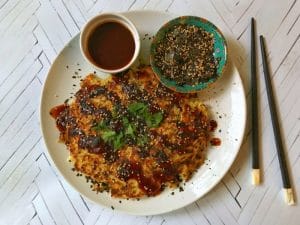 Okonomiyaki (pronounced Oh-KOH-no-mee-aki) is a style of savory pancake originally from South-Central Japan, a region which includes the cities of Osaka and Kyoto. Okonomiyaki is typically cooked on flat griddles (Teppanyaki) in front of customers seated at counters in diner-style restaurants who select from an array of fresh ingredients including vegetables, seafood, meats, and/or sauces.Typically built around shredded cabbage mixed with a flour, egg, broth batter, these pancakes are are perfect for adding all your favorite ingredients from bacon to calamari.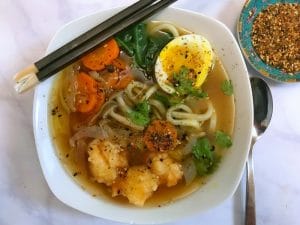 Udon is a thick noodle made with wheat flour and is typically cooked in a soup alongside a wide variety of optional ingredients: beef, chicken, fish, tempura, veggies, and / or a soft-boiled egg. Learn to make this classic dish and impress yourself by making the ultimate Japanese umami broth called dashi. Dashi will take your cooking to the next level!
For more recipes, check out the full list in our Global Cookbook.
Curry powder is mostly identified with its South Asian origins, but Japan has adopted a version of curry that we think you'll love. Our Japanese-style curry powder delivers an authentically mild, sweet, and savory taste that has no heat. You can use this Japanese curry spice blend in any recipe calling for curry powder. Our Japanese curry contains: turmeric, coriander, cumin, cardamom, cloves, honey powder, fenugreek, ginger, cinnamon, and black pepper.
This month we are pleased to offer a special spice straight from Japan: freshly-ground Sansho pepper. Sansho, a berry of the Japanese 'prickly ash' shrub, is related to the better-known Sichuan pepper but has more pronounced citrus notes of yuzu (a tart Asian citrus variety) and grapefruit. Similar to Sichuan pepper, Sansho also provides a slight tingling sensation on the tongue and is commonly used to flavor Japanese fish dishes and umami broths. Sansho is a powerful spice so use it sparingly – try a tiny pinch before adding more.
Furikake is another Japanese table condiment that is often used as a rice seasoning. There are many variations which may include bonito (dried skipjack tuna) flakes, dried mushroom, and sugar to add a slightly salty, umami crunch to the savory flavors. We offer a vegan version (no tuna) without the sugar, made with with nori (seaweed), white sesame seeds, black sesame seeds and a little sea salt. Use it to season anything, from rice to ramen.
We're please to provide an authentic Shichimchi Togarashi (also known as Japanese 7 Spice), a common condiment spice on Japanese dinner tables. Use a pinch anywhere you want a citrus aroma and a zesty, peppery, citrusy punch while the Sansho pepper adds the unique mouth tingling feeling. You can use it anywhere you want a Japanese pop of flavor. Our blend combines red pepper flakes, tangerine peel, sansho pepper, white sesame seed, black sesame seed, nori (seaweed), and ginger.
For an even easier way to incorporate these flavors into your stable of recipes, check out our spice blend subscription at Piquant Post. We send you expertly crafted flavor packets each month along with unique, curated recipes so you can spend less time planning / searching and more time enjoying your meals.
Sign up for our email list to get news, sneak peaks, and special promos and we'll send you a code good for 10% off your first order. Piquant Post also makes a perfect gift for foodies and home chefs!