It's time for another sneak peak into our spice subscription with the April 2019 box reveal! This month, we're taking customers on a culinary tour of a region, rather than a single country. Read on to find out why Piquant Post is one of the highest rated subscription boxes in the market!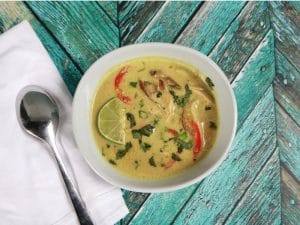 One of Thailand's most popular dishes, Tom Kha Gai (Coconut Chicken Soup) is remarkably easy to make at home. Like many of Thailand's signature dishes, the authentic recipe is aromatic and exotic, with a slightly sweet-sour profile and a little heat. Coconut milk provides a silky smooth soup base and makes this dish sing! Lighten up the calories by using light coconut milk instead.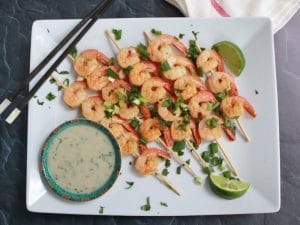 You can never have enough easy, tasty weeknight recipes at hand. And this Thai Shrimp Skewers with coconut lime dipping sauce is a perfect recipe for busy nights where you want a healthy and flavor-packed meal. Using common supermarket ingredients and our Kaffir Lime spice, we can create a unique marinade and dipping sauce that transforms shrimp skewers (or really any protein) into an exotic meal.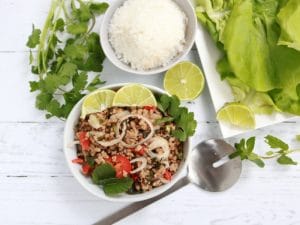 Laotian Larb (pronounced "lawp") is a stir-fry dish with a funny name that is the unofficial national dish of Laos. Larb has become popular in Thailand and surrounding countries such as Burma and Southern China. Typically made with a minced meat such as pork, chicken, beef, or fish, duck, or even diced mushrooms, Larb is an easy, flavorful meal that you'll want to add to your weeknight rotation. Stack fresh lettuce leaves and herbs on a plate and you'll get the most flavorful lettuce wrap you've ever had. Easily customize this recipe: make it vegan by subbing in diced mushrooms. Or make a fish Larb. Don't like cilantro? Sub in basil.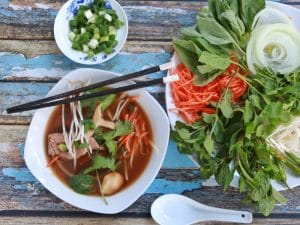 Vietnamese Pho soup has become increasingly popular around the world with restaurants popping up to serve up heaping bowls filled with savory broth, chewy noodles, tender slices of beef, and pops of color and flavor from crunchy veggies and herbs. The only problem is that Pho is traditionally made by boiling beef bones and spices for 6-8 hours to make the signature broth. Not something to make at home, until now. Our recipe allows you to make a quick and easy Vietnamese Pho that delivers most of the flavor of a restaurant broth without tying you to the kitchen all day
For more recipes, check out the full list in our Global Cookbook.
Curries are immensely popular in Thailand, but they are prepared differently than in South Asia (or Europe). Usually they're made with a focus on fresh-ground herbs like Thai basil, cilantro, and aromatics like shallot, ginger, galangal, and garlic. Dried spices are added to the herb paste to round out flavors. Our chefs have developed a dried spice blend you can use to develop an authentic Tom Kha flavor profile with common supermarket ingredients and a minimal amount of prep time. You can also use your food processor to blend up fresh herbs and aromatics if you prefer to make a curry paste. Contains: coriander, galangal, cumin, lemongrass, turmeric, white pepper, garlic powder, and cinnamon.
This month we're excited to send you pure Thai Kaffir Lime Leaf powder. Kaffir Lime is distinct from your typical lime tree and produces leaves that are commonly used in Thai cuisine to flavor the dish (almost as we use Bay Leaf in Western cuisine). Kaffir limes (the fruit) are extremely bitter and are not consumed but rather typically used in household cleaning products. But the leaves have a wonderful and unique citrus flavor that add a touch of Southeast Asia to any dish. Kaffir lime leaf is an ingredient that can be used in myriad ways, from sprinkling on yogurt or desserts, to adding to soups, curries, and on fish. As the days heat up, try making our Thai Steak Salad recipe with Kaffir Lime dressing.
Laotian Larb is technically a salad (a meal with small pieces), but made mostly with meat! It gets its wonderful flavor from fresh herbs, shallots, fish sauce, lime juice, a few spices and most importantly, the unique ingredient of toasted rice. Toasted rice adds a nutty flavor and is made from sticky rice that is dry-roasted in a wok, then typically pounded in a mortar until it's a rough powder. Our Laotian Larb spice saves you all that time and effort and we mix in a few authentic spices so you can quickly make a Larb of your choice with just a few items. Contains: toasted rice powder, coriander, shallot, cilantro, garlic powder, black pepper, and cayenne pepper.
The key to making a good Pho lies in creating a tasty broth. We tested a number of different recipes and ingredients to make a quick broth that has the necessary savory / umami flavors as well as the subtle sweet, warm spice notes that are unique to Vietnamese Pho. By using a store beef broth with a small amount of beef bone broth and adding our Vietnamese Pho spice packet, we can develop the rich, complex broth that you expect with little effort. Our spice packet is naturally vegan, and we infuse umami flavors into the broth using Porcini mushrooms that are ground into a powder. Contains: porcini mushroom, coriander, onion powder, star anise, cinnamon, black pepper, ginger, fennel seed, cardamom, chipotle, and cloves.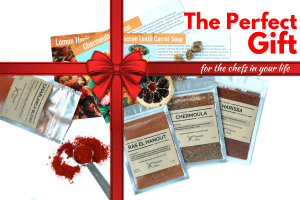 This year, give the gift of delicious meals from around the world! Our spice subscription sends 100% all-natural, no preservatives, no sugar, no additives, gluten-free spice blends and easy recipes. Perfect gift for all the home chefs in your life!