Ready for the December 2018 box reveal? This month we've sent you some some seasonal gems to make at home.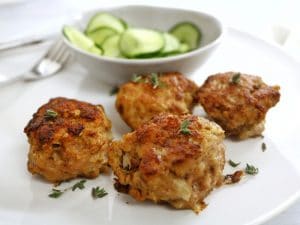 Probably the most well-known dish (at least in the U.S.) of all Scandinavian recipes, Swedish Meatballs could just as easily be called Finnish Meatballs, Danish Meatballs, or Norwegian Meatballs – it's the ultimate regional comfort food. These meatballs are not your Swedish-American grandma's recipe. Use our Swedish Savory Sweet to make a holiday-spiced version of meatballs with authentic flavors commonly found Sweden. Or, save a few minutes of prep time and try adding our spice blend to your next meatloaf!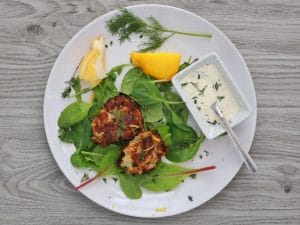 Seafood is an integral part of the Scandinavian diet, owing to the endless coastlines of the region. This easy recipe for Scandinavian-style fish cakes with mustard aioli delivers a big flavor payoff for relatively little work. Our Nordic spice blend provides the typical regional flavors you expect such as dill and caraway. This recipe is also easy to customize with whatever fresh seafood you find such any variety of fish, or shrimp and calamari.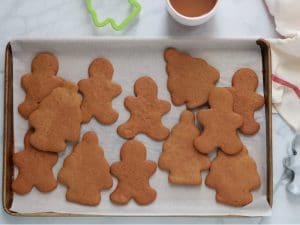 In Sweden, Pepparkakor (Swedish ginger cookies) are a holiday tradition around Christmastime. Also known as ginger snaps, these cookies are intensely spiced and darker in color than sugar cookies. Crunchy and addictive, they're perfect for serving to party guests or just nibbling with a warm cup of coffee. Our wonderful and versatile Gingerbread spice blend is perfect for the holidays to give you some "season's greetings".
For more recipes, check out the full list in our Global Cookbook.
We've created a proprietary spice blend we call Swedish Savory Sweet to spice your up your bland meatballs with authentic flavors commonly used in holiday cooking in Sweden. In fact, we thought about calling this blend Swedish Allspice because we think you can find so many uses for it, including sprinkling on baked pears, roasted veggies, or even on savory muffins. Contains: nutmeg, cinnamon, cardamom, thyme, and ground white pepper.
Another one of our creations, Nordic Blend was created to showcase a lovely combination of typical dried herbs and spices used in Scandinavian cuisine. Despite the wide variety of herbs, dill is unquestionably the king in the region. Used to top soups, cured meats, and pickled items, dill imparts a delicate and distinct sweet-sour flavor. Our Nordic blend expertly juxtaposes dill with a hint of caraway seed (known best for use in rye bread), another hugely important flavor in Scandinavia. We think you'll love this unique blend and find many everyday uses for it such as a pinch on crackers with your favorite spread. Contains: dill, thyme, coriander, caraway seed, celery seed, and black pepper.
Our fresh gingerbread spice is extra ginger-y so you won't need to add much to get max flavor. Made with freshly ground ginger, and the warming spices of cinnamon, nutmeg, allspice, and cloves, you can use this blend in any baked goods or sweets recipe where you want to add a classic gingerbread flavor. Contains: ginger, cinnamon, nutmeg, allspice, and cloves.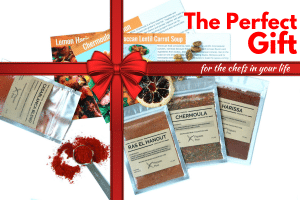 This year, give the gift of delicious meals from around the world! Our spice subscription sends 100% all-natural, no preservatives, no sugar, no additives, gluten-free spice blends and easy recipes. Perfect gift for all the home chefs in your life!