Ready for our February 2019 box reveal? Once again, we sold out our monthly boxes and we see some delicious meals being posted by customers on social media (make sure to tag us #piquantpost). This month, we've create a theme to bring you luck and joy in 2019. Read on for the full details: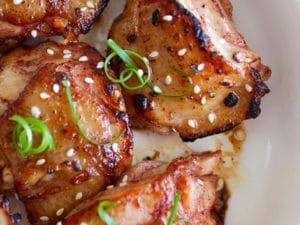 Five spice powder is an essential seasoning in Chinese cooking. If you've had Chinese take out, you've probably tasted five spice without even knowing. This recipe is so easy, yet delivers a knockout flavor. You'll definitely add it to your regular weeknight meal rotation. We like to use bone-in, skin-on chicken thighs to get a crispy skin. While pan-frying in a skillet or wok is quick, you can also grill or bake chicken. Five spice powder is a versatile blend that you can use in so many Asian dishes from stir-fries to grilled meat to making a Vietnamese banh mi sandwich!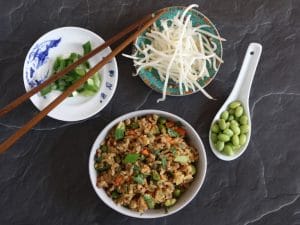 Pork fried rice is a takeout standard that everyone should know how to make at home. It's also easy to customize with any vegetables you want to use up from your fridge (or make completely vegan). In our recipe, we've added a unique flavor twist to this classic through the addition of our Spicy Tangerine blend soaked in fresh mandarin orange or tangerine juice. In many regions of China, the word for 'tangerine' sounds very similar to the word for luck. So, add some luck to your year by eating this dish!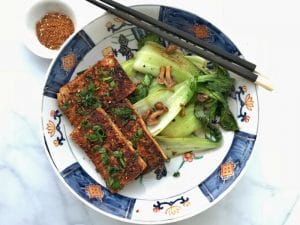 Fragrant, powerful, and delicious. The aroma of these Spicy Tofu Steaks transports you to Xi'an, capital of Shaanxi Province and one of China's oldest cities that is best known as the home of the terra cotta army. The city of Xi'an lays at the eastern terminus of the ancient trading route known as the 'Silk Road', which connected Asia to the Middle East and Europe and delivered exotic goods and foods to all corners. For over a thousand years, traders from the Middle East, North Africa and Southeast Asia traversed the Silk Road. Their influence is still felt in pockets like the 'Muslim Quarter' in Xi'an, dating from the 7th Century, where Arab-influenced cuisine is served. This dish captures the essence of the early fusion of Chinese and Arab cuisine and is typical of flavors you will find today all over Northwest China. If you prefer meat option, use Silk Road blend on grilled or skillet-cooked lamb chops.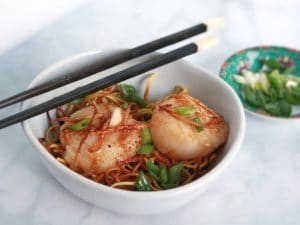 Food symbolism is incredibly important in Chinese culture. The look of the food and sound of words often represent important themes like family, luck, wealth, and health. As we enter the Lunar New Year holiday in China, this symbolism takes on even more importance for the year ahead. Our recipe for Hong Kong Scallops with ginger and soy attempts to offer positive symbols for the new year. Seafood is considered lucky; Scallops' round shape means 'togetherness' and the scallop also represents 'new opportunities', while the uncut, long noodles symbolize 'longevity'. In just a few minutes, you can make an authentic and flavor-packed dish that will bring you smiles AND good fortune.
For more recipes, check out the full list in our Global Cookbook.
One of the best known Chinese spice blends, our Five Spice blend is made by lightly toasting and then custom grinding star anise, Sichuan peppercorns, fennel, cinnamon, and cloves for the freshest flavors you can buy. What makes our Five spice blend so special is that we use real Sichuan Pepper (yep, the kind that makes your mouth tingle!). Store-bought five spice powder almost never contains this expensive, exotic, and authentic ingredient. A little goes a long way to livening up your meals. Beyond fowl and fatty meats, experiment with it on oatmeal, yogurt, baked goods, soups, bolognese sauce, BBQ meats, or even in your coffee/tea!
Dried tangerine peels add a nutty flavor and our recipe calls for using fresh tangerine (or mandarin or orange) juice to infuse a refreshingly tangy-citrus flavor to any dish. Our proprietary spicy tangerine seasoning uses freshly dried and ground tangerine peels along with crushed red pepper and ginger powder. One of the first steps is to rehydrate the dried peels in the tangerine juice. This not only softens the peels but infuses the tangerine flavor in the dish. Contains: tangerine peel, ginger, and chili flakes.
Our innovative Silk Road spice blend will transport you back in time to experience one of the original culinary fusions between Arab and Chinese food. Take the ancient flavor trail and use this blend anywhere you want a nutty, warming flavor. Works especially well with tofu, lamb or beef on chops, steaks, stir-fries, and stews. We combine spicy heat from cayenne pepper with the lemony tingle of Sichuan Pepper to create a warm, penetrating aroma that will fill your kitchen when cooking.Contains cumin, sesame seeds, coriander, cayenne, garlic, and Sichuan pepper.
A little spicy heat with some tingle on your tongue, this is not your Mother's table salt and pepper blend! Handcrafted with sea salt flakes and freshly-ground white peppercorn and Sichuan pepper, our Salt and 2 pepper blend can be used on just about anything for a pop of maximum flavor from your food. In addition to our Hong Kong scallops recipe, try this on shrimp for a finger food that you'll want to make again and again. Also works great as a finishing salt on fish, meats, stir-fry, veggies, and noodle dishes.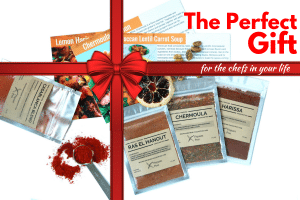 This year, give the gift of delicious meals from around the world! Our spice subscription sends 100% all-natural, no preservatives, no sugar, no additives, gluten-free spice blends and easy recipes. Perfect gift for all the home chefs in your life!