With new year's resolutions fresh on our minds, who's ready to kick off 2018 with delicious, nutritious meals to inspire our healthy eating? As we circle the culinary globe on a spicy adventure, we're excited to announce our latest theme and batch of recipes and spices.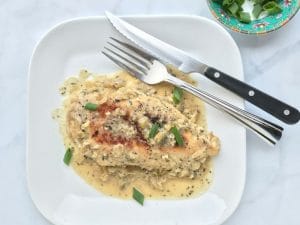 The French town of Dijon is eponymous with a style of powerful but delicious mustard that we all love on sandwiches and game-day hot dogs. We've used our spicy superpowers to come up with a freshly-ground mustard seed blend to make an absolutely stunning skillet Chicken Dijon. We promise you'll be saying "pardon me, could you pass me the Piquant Post" after eating this meal 🙂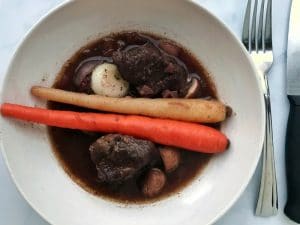 Winter is the perfect time for comfort food and there's nothing quite like a warm bowl of rich beef stew. Our recipe calls for a unique French twist by adding the warming spice blend Quatre Épices (French Four Spice). Grab some cheap red table wine, some fresh vegetables, beef, onions, and crusty bread for mopping up sauce. Get ready for a flavor-packed meal with little effort!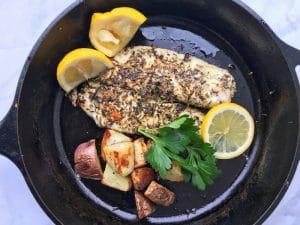 This recipe for a simple one-pan-roasted herbed fish uses a classic French herbal seasoning called Herbs de Provence to provide a subtle boost of summertime garden flavor. Use on any flaky white fish for a healthy, quick weeknight meal that is easy to please (and clean up!).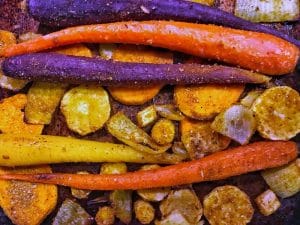 Uber-trendy Vadouvan is a glammy, milder version of Indian curry powder that incorporates the French trinity of aromatics onion, garlic, and shallot in addition to the typical curry spices. You're likely to see Vadouvan on the menus of many Michelin-starred restaurants. Versatile enough to use with meats, nuts, and stews, Vadouvan is also a perfect pair with roasted veggies.
For more recipes, check out the full list in our Global Cookbook.
The common table condiment Mustard is made with mustard seeds soaked in vinegar, white wine, and salt. With this blend, we show you how to use the raw ingredients to create a lovely, fresh mustard sauce instead of grabbing the processed bottled mustard from the supermarket. This blend also works great as the backbone of a salad vinaigrette. Contains mustard seed, coriander, thyme, basil, onion powder, and black pepper.
French cuisine is not known to incorporate many dried spice blends in their recipes, but Quatre Épices (meaning Four Spices) is one native French blend that is traditionally used in soups, stews, ragout, and charcuterie, such as pâté and terrines. Keep this blend handy for extra sprinkling wherever you might use freshly ground pepper. Contains freshly-ground white pepper, ginger, nutmeg, cloves, and cinnamon.
This herb blend originates from the southeastern region of Provence that runs from a corner of the Alps down along the glamorous coast of the Mediterranean.  Local Provençals gather fresh summertime herbs like lavender, thyme, savory, and basil and dry them to provide herbal flavor to their dishes long after the summer sun departs. Use our Herbs de Provence blend in a wide spectrum of dishes from roasted meats to pasta sauce to add the flavor of summer to your meals. Contains thyme, marjoram, savory, tarragon, basil, fennel seed, lavender.
Quite possibly one of the earliest fusion spice blends, Vadouvan was developed in a French colony in India by French cooks. Mild, sweet, and uncannily versatile, use it on meats, soups, stews, nuts, veggies, or any recipe calling for curry powder. Our custom blend of Vadouvan combines shallot, onion, garlic, fenugreek, turmeric, cumin, nutmeg, cardamom, cloves, fennel seed, mustard seed, curry leaves, cayenne pepper.
For an even easier way to incorporate these flavors into your stable of recipes, check out our spice blend subscription at Piquant Post. We send you expertly crafted flavor packets each month along with unique, curated recipes so you can spend less time planning / searching and more time enjoying your meals.
Sign up for our email list to get news, sneak peaks, and special promos and we'll send you a code good for 10% off your first order. Piquant Post also makes a perfect gift for foodies and home chefs!