Ready for our first reveal of the year? All of our January orders are out to customers and we see some excited folks already cooking and posting gorgeous dishes on social media. Read our January 2019 box reveal below for all the details!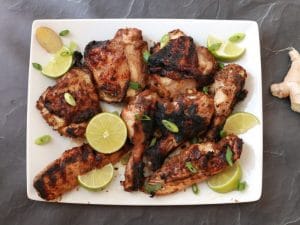 Jerk Chicken is a classic that any weekend BBQ warrior or weeknight family-pleaser needs in their repertoire. Jamaican Jerk is a spice blend that rightfully deserves first honors in the global flavor hall of fame. Renowned the world over, Jerk seasoning lends layers of flavor and heat to whatever you slather it on. We've dialed back the flames in our spice blend to give you control of how much heat you want. You can also use our seasoning (and especially the marinade from the recipe) on many different meats or even roasted veggies like eggplant.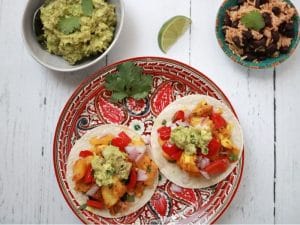 This dish takes us to Trinidad, a Caribbean island with a large ethnic population with South Asian roots (hence the curry!). This recipe is simple yet delivers an outsized payoff in little time. Cod filets cook quickly and are perfect to carry the mild flavors of this yellow curry powder. Salt and lime, a classic flavor punch, punctuate the delicate curried fish for a well-rounded flavor profile. Pan-roasted peppers and fresh red onion add a touch of savory-sweetness. Make a quick homemade guacamole to make this dish really standout.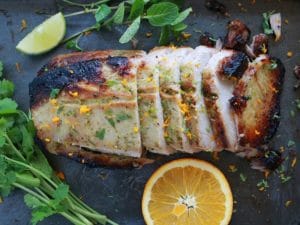 One of the best known Cuban dishes is Lechon Asado (Lay-CHON Ah-SAW-dough), a marinated pork roast. While the pork can be oven-roasted or even slow-cooked until it falls apart, we modern (busy) home chefs need a recipe that can be prepared quickly, then cooked without much oversight (we have things to do!). Our recipe offers the best of both worlds: a vibrant, minty-ctirusy-garlicky flavor of Cuba and less than 15 mins of prep time (and < 1.25 hours of cooking time). There are so many other ways to use our Mojo marinade/sauce ('Mojo Criollo'), including directly as a dressing or sauce.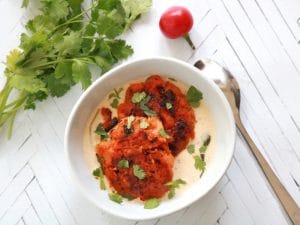 Caribbean food elicits thoughts of bold flavors from spices, enveloped by spicy heat from local peppers. Many of the best Caribbean recipes achieve a perfect flavor balance by also adding a little acid from citrus like lime, orange, or lemon to some sweetness from coconut, bananas, or derivatives of sugar, such as molasses and cane juice. The result is that, even simply-prepared dishes like this Sweet Potato Cakes with Coconut Lime sauce recipe taste sublime. This easy, healthy recipe is waiting for your touch. Add the heat to your taste using jalapeño, habanero, or serrano peppers.
For more recipes, check out the full list in our Global Cookbook.
The Jerk spice blend rightfully deserves first honors in the global flavor hall of fame. Renowned the world over, authentic Jerk seasoning is complex and lends layers of flavor, finishing with increasing heat. Traditionally made fiery hot with Scotch Bonnet peppers, we dial back the flames in our spice blend so you can control how much heat to add to your dish. Dice up jalapeño, serrano, or habanero peppers, or add in cayenne pepper or red pepper flakes to taste. Our Jamaican Jerk expertly blends the native Caribbean allspice berry with sweet paprika, thyme, onion powder, garlic powder, ginger, cinnamon, nutmeg, black pepper, and cayenne pepper.
You might not associate curry with the Caribbean, but that is probably because you haven't visited the "right" islands, where the South Asian influence is strongest. Use our mild yellow "Trini" curry to make any number of curry dishes. For the most authentic Trini-style curry you'll also have to make some fresh green seasoning – a Creole condiment that will blow your mind (and tastebuds). But using our curry powder alone gets you 90% of the way to the laid back lifestyle 🙂 Contains: turmeric, coriander, cumin, garlic powder, black pepper, fenugreek, bay leaf, mace, cayenne pepper, thyme, mustard seed, cinnamon, and nigella seed.
We developed our Cuban Mojo blend as the ultimate starter kit to make an authentic Cuban marinade or dressing. Mix our spices with fresh orange and lime juices, garlic, cilantro, and mint to make the essential Cuban sweet-sour sauce known as 'Mojo Criollo'. We guarantee that with one taste you'll be including this dressing in your meal planning for everything from roast chicken, to grilled shrimp, to salad dressing.  Contains: oregano, cilantro, cumin, roasted garlic, spearmint, onion powder, orange peel, lemon peel, and black pepper.
We developed this proprietary, all-purpose blend by looking at a number of Caribbean recipes across the region from Jamaica to the Antilles and examining key flavors used in their cuisine. We've added key aromatics like ginger, garlic and onion to the native spice allspice, and also drop in subtle flavor hints from fresh herbs rosemary, thyme and parsley. Use it as a flavor boosting substitute in any recipe calling for paprika. Or, use it as a dry rub on meat, fish, or poultry. Contains: paprika, thyme, allspice, garlic powder, onion powder, parsley, white pepper, ginger, and rosemary.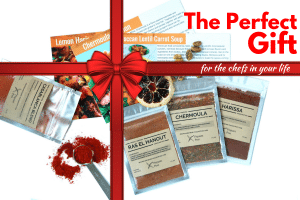 This year, give the gift of delicious meals from around the world! Our spice subscription sends 100% all-natural, no preservatives, no sugar, no additives, gluten-free spice blends and easy recipes. Perfect gift for all the home chefs in your life!