Our July monthly spice subscription boxes have all shipped. Now it's time for the July 2018 box reveal! Learn about the delicious recipes and spice blends in our July box.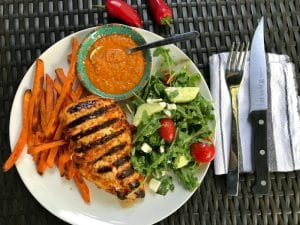 Perfect for summer BBQ parties, this Peri Peri Grilled Chicken recipe is a surefire crowdpleaser. Featuring a Portuguese-Mozambique fusion marinade called Peri Peri, a tangy- spicy-sweet sauce traditionally made with African Birds Eye chilis, it will leave you licking your fingers and longing for more. Make the marinade using our spice blend to achieve maximum flavor, or use Peri Peri directly as a dry rub on your chicken.
This soup recipe is a variation on one of Portgual's national dishes known as "Caldo Verde". A hearty, delicious, and easy soup to make at home. We sub in kale and make our own Chouriço ('SHO-reet-suh'), a wonderful pleasantly spicy Portuguese sausage (without preservatives, of course!). Also, its easy to customize: throw in whatever veggies you have on hand. Serve with warm crusty bread for mopping up the delicious broth.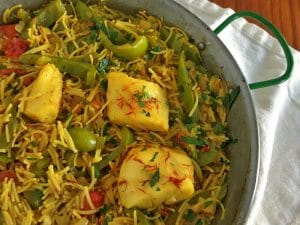 Look at any Portuguese menu and you will see dishes with cod, one of the quintessential ingredients of Portuguese cuisine. Many dishes use salt-cod, a dried and salted type of preserved cod that for centuries was the primary export of Europe. We've created this Portuguese cod with fideos dish to mimic their neighbors' Spanish paella, using thin noodles called Fideos (pronounced 'FEED-yos' in Portuguese) instead of rice and using fresh cod in place of salt-cod. Make this easy, healthy meal and sub in your local fresh catch and veggies.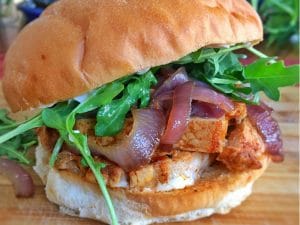 If you want a quick bite in Portugal, then you'll likely encounter the Bifana ('BEEF-ah-na') sandwich. Made of a paprika-spiced pork with mustard on a soft roll, Portuguese eat these sandwiches like Americans eat burgers – anytime, anywhere! Using our unique Portuguese Allspice blend, make a dreamy marinade in seconds. Also, this humble sandwich gets an upgrade from caramelized onions for a mouthwatering treat – perfect for summer eating!
For more recipes, check out the full list in our Global Cookbook.
This Portuguese-African fusion blend has become famous around the world due to the popularity of a grilled chicken restaurant chain called Nando's. Now you can easily recreate their secret sauce at home! Originally brought to Portugal via trade with their former colony of Mozambique, Peri Peri is used to create a flavor-bomb marinade which imbues a tangy-smokey-savory profile perfect for grilling chicken. While we skip the spicy hot traditional African birds-eye chilis, you can easily customize the heat to your liking using 1-2 jalapeños. Contains: smoked paprika, chili flakes, garlic, onion, oregano, lemon peel, basil, guajillo chili, and citric acid.
This month we send you a special spice blend to recreate the flavors of Portuguese Chouriço sausage at home using ground pork, so you can skip all the preservatives and salt found in processed sausage. Our Chouriço spice blend provides the traditional smokiness that you expect from a smoked sausage along with savory flavors and a little heat. Use it in any soups or stews or add it anywhere you want to add some smoky zing. Contains: smoked paprika, garlic, cayenne pepper, white pepper, bay leaf, and fennel seed.
Once again, we've created a unique blend we call 'Portuguese Saffron'. This blend builds around a common Portuguese spice called Açaflor ('AH-sa-flor'), the petals of the Safflower plant. One of the oldest recorded spices, safflower has been found in ancient Egyptian tombs and was also used as a dye for royal wardrobes. Safflower is used to provide a subtle color, taste, and a lovely aroma that is suggestive of a sweet, chocolatey, tobacco. Our Portuguese Saffron spice blend can be used to add flavor to soups, stews, rice, or grain dishes. Contains: safflower, paprika, lemon peel, black pepper, garlic, thyme, turmeric, cayenne pepper, and bay leaf.
We've created a magical spice blend we call 'Portuguese Allspice' in a nod to Portugal's far reaching colonial empire that brought spices back from far corners of the globe. Allspice, Paprika and Ancho Chili came from voyages to Central and South America while the exotic Cinnamon, Black Pepper and Ginger came from Portuguese dominated trade routes to Asia. Use it to make the marinade in our Bifana recipe. Or, use this blend in other recipes to replace paprika for a delightful upgrade. Contains: paprika, ancho chili, cumin, nutmeg, black pepper, cinnamon, allspice, lemon peel, orange peel, oregano, ginger, cloves, and bay leaf.
For an even easier way to incorporate these flavors into your stable of recipes, check out our spice blend subscription at Piquant Post. We send you expertly crafted flavor packets each month along with unique, curated recipes so you can spend less time planning / searching and more time enjoying your meals.
Sign up for our email list to get news, sneak peaks, and special promos and we'll send you a code good for 10% off your first order. Piquant Post also makes a perfect gift for foodies and home chefs!