Our June monthly spice subscription boxes have all shipped! Grab a beverage and sit down. Its time for the June 2018 box reveal! Check out the delicious recipes and spice blends in our June box.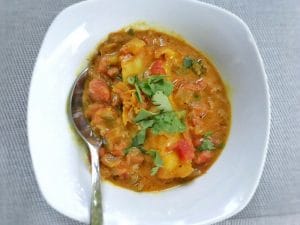 Zanzibar is known for its warm breezes, white sand beaches, and turquoise waters. The local food happens to be just as delicious as the water is beautiful. Menus are full of fusion recipes revolving around fresh seafood, vegetables, tropical fruits, and spices. So, use our unique Tamarind Curry to make a delicious and balanced sweet-sour fish coconut curry stew.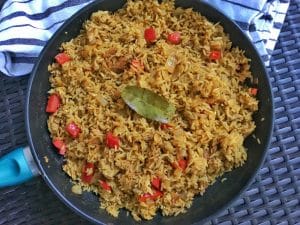 Zanzibar Pilau is a common rice pilaf dish eaten throughout East Africa tracing its roots to the Middle East. In fact, both the words Pilau and Pilaf are related to the original Persian word for a rice dish Polow. Pilau is meant to be hearty, and often contains a variety of nuts, dried fruits, vegetables, spices, and even meats. This recipe is spiced as you would find in Zanzibar with warming and savory spices. Add meat for a hearty, one-pot meal.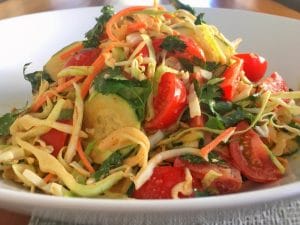 This Tanzanian Spicy Slaw recipe is inspired by a common salad called Kombuchari that adorns dinner tables across the Great Lakes region of the Rift Valley in East Africa (Tanzania, Kenya, Uganda, Rwanda, and Congo). Refreshing and crunchy with a peppery bite, this spicy slaw takes just minutes to prepare and uses a mix of fresh vegetables that you might find in any Tanzanian market: cabbage, tomatoes, onions, cilantro and fresh lime. Using Berbere spice blend in the dressing makes this dish sing!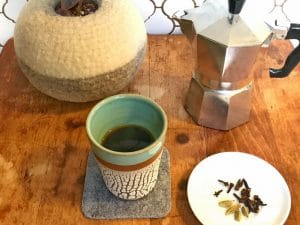 The spice island of Zanzibar combines its love of coffee with its expertise in spice blending. Every menu on the island offers spiced coffee and it is often served with a heavy dose of milk and two lumps of sugar. Try this Zanzibar Spiced Coffee recipe so that, tomorrow morning, you can transport yourself to a beach on the Indian Ocean. Also try this blend in cookies or pancakes.
For more recipes, check out the full list in our Global Cookbook.
Tamarind is a tree that produces pods with a sticky, sour fruit inside. Popular throughout South Asia, the Middle East, and Latin America, Tamarind provides a delightful sour note for any sweet-sour dishes or sauces. Here, we blend natural tamarind powder with our freshly-ground curry powder to make a unique subtly-sour curry blend that wonderfully balances with the sweetness of coconut milk. Our Tamarind Curry blend contains: tamarind, coriander, cumin, turmeric, ginger, cardamom, black pepper, cinnamon, fenugreek, and cayenne pepper.
Rice Pilaf, while tracing its roots to the Persian Empire (now Iran), is a favorite meal around the world. Forget the boxed, store-bought pilaf which are full of preservatives, chemicals, sugar, and salt and easily make your own African-inspired pilaf with our Spiced Pilaf blend. Contains: cumin, cardamom, star anise, black pepper, cayenne, cinnamon, cloves, turmeric, cayenne, coriander, ginger, and smoked paprika.
Berbere is the spice blend of choice in many recipes of the Horn of Africa (Ethiopia, Eritrea, and Djibouti) but it has become popular throughout the rest of the world. Berbere provides a spicy heat up-front, rounded with alluring notes from the cardamom and cloves, finished with a subtle maple-bitter note from fenugreek. Our Berbere blend is so versatile that you will certainly want to have it around the kitchen to experiment. Contains: onion, cayenne pepper, paprika, new mexico chilis, coriander, cardamom, ginger, nutmeg, cinnamon, black pepper, allspice, and cloves.
Use our spiced coffee blend to add an exotic African twist to your morning routine. Add the spice to your grounds and brew as you normally do. When brewed, spices fill the nose with warming, aromatic scents. You can also make chai tea using this blend. Contains: cardamom, ginger, cloves, and cinnamon.
For an even easier way to incorporate these flavors into your stable of recipes, check out our spice blend subscription at Piquant Post. We send you expertly crafted flavor packets each month along with unique, curated recipes so you can spend less time planning / searching and more time enjoying your meals.
Sign up for our email list to get news, sneak peaks, and special promos and we'll send you a code good for 10% off your first order. Piquant Post also makes a perfect gift for foodies and home chefs!