Sit yourself down… our monthly spice subscription boxes have shipped and it's time for the March 2018 box reveal! This month we send our readers on a Mediterranean escape to Lebanon. The flavors of the Middle East fused with fresh and healthy ingredients of the Mediterranean region will surely please your palate and excite your senses.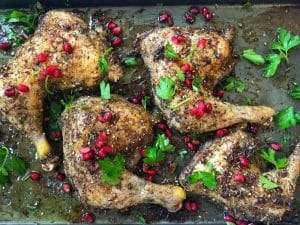 Recreate the classic flavors of the Eastern Mediterranean with this easy, one-pan Zaatar roasted chicken recipe.  Add fresh pomegranate seeds (superfood!) as a garnish for a subtly tart finish. Easy weeknight meals just got a whole lot more delicious.
Don't confuse this authentic Lebanese Moussaka recipe for the better-known Greek Moussaka dish… Moussaka is actually an Arabic word referring to a common Middle Eastern vegetable stew, often served cold. Serve this vegan chickpea-eggplant dish hot or cold, with crusty bread or pita chips, and be amazed at the explosion of flavors: cool mint with a little spicy heat! You'll wonder why you're not cooking vegan dishes more often!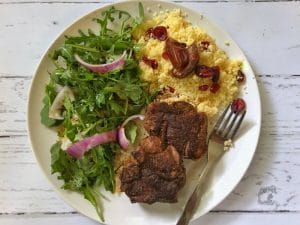 Learn the history of the spice trade, one bite at a time. The flavors of Modern Arabic cuisine are the result of a millennium of perfecting the art of spice blending. Why? Arab traders established many of the world's most important ancient trading routes to East Asia, Africa, and Europe, bringing home exotic flavors, perfumes, and culinary ingredients for local chefs to experiment with and combine flavors. This lamb baharat recipe represents that beautiful tradition.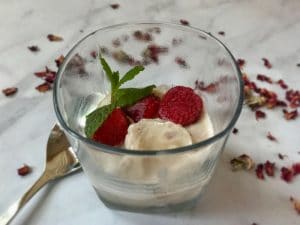 Who doesn't love vanilla ice cream?! The beautiful thing about this recipe is that with a few simple steps and ingredients you can transform your beloved dessert into an delightfully exotic one worthy of being on a menu at a top fusion restaurant. Sometimes simple is better!
For more recipes, check out the full list in our Global Cookbook.
A classic blend of the Middle East that is increasingly used by chefs in top restaurants, we think you'll want to explore uses of this delicious blend that packs a flavor punch. Zaatar has regional variations, but we offer a delightful and authentic blend. Thyme offers a subtle woodsy-minty flavor. Sumac delivers a *lovely* tartness. Marjoram adds a hint of sweetness. Oregano provides a pungent, slightly bitter-hay flavor. Sesame seeds add a nutty note.
Mint is a popular ingredient across the Middle East and is often added to dishes with "hot" and fragrant spices like coriander and cumin. We created this blend to deliver an exotic smokey-minty-hot flavor profile of the Middle East in a couple tablespoons. Contains: spearmint, smoked paprika, cayenne, cumin, and coriander. Piquant Post innovates again!
Baharat is the Arabic word for 'spices', and is also the name of a traditional spice blend used throughout the Arab world, from North Africa to the Persian Gulf. Baharat, also known as 7 spice, is a versatile blend traditionally used to season lamb, chicken, beef, fish, and stews. Great for sprinkling as a delicious and exotic seasoning on just about anything. Contains: black pepper, allspice, coriander, cumin, cinnamon, cloves, nutmeg, and smoked paprika.
Given the popularity of rosewater in Middle Eastern cooking (especially desserts) AND given the cost of a bottle of distilled rosewater ($10), we wondered if we could offer our customers a simple way to make their own rosewater at home. Mission accomplished! Using our Provence Rose (culinary rose buds), you can make rosewater simple syrup recipe that transforms any ordinary dessert into one you'll want to have on each of a Thousand and One nights!
For an even easier way to incorporate these flavors into your stable of recipes, check out our spice blend subscription at Piquant Post. We send you expertly crafted flavor packets each month along with unique, curated recipes so you can spend less time planning / searching and more time enjoying your meals.
Sign up for our email list to get news, sneak peaks, and special promos and we'll send you a code good for 10% off your first order. Piquant Post also makes a perfect gift for foodies and home chefs!