It's time for another sneak peak into our subscription in our March 2019 box reveal! We shipped the most boxes to our customers ever in March.  Read on to find out why Piquant Post is one of the highest rated subscription boxes in the market!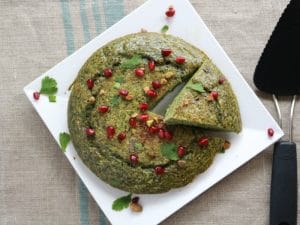 Persian herb frittata (Kuku Sabzi) is a savory, fluffy egg dish stuffed with fresh herbs, garlic, nuts, and Persian Advieh. This recipe makes an easy, alluring, and exotic brunch dish that everyone can enjoy.  This dish is easy to customize: clean out the fresh veggies in your fridge using shredded carrot or diced sautéed cauliflower. Or, add dried fruit like cranberries or apricots or sub in walnuts. Use Kuku Sabzi leftovers to stuff a pita sandwich with hummus for a fun lunch snack.
Almost every culture has a "national dish" that describes and may even define a culinary identity. In Iran, that dish is called Ghormeh Sabzi (GOR-ma SAB-zee). Roughly translating to "Fried Herbs" from Farsi, Ghormeh Sabzi (Kidney Bean & Beef Stew) is a dish that nearly every Persian grandmother has a recipe to make. Think of it as the ultimate comfort food, one that fills the home with delightful aromas and reminds us of family, like a Sunday roast. A key ingredient in this dish is the specialty spice known as Dried Persian Lime, which smells like a bolt of citrus lightning. A great stew to end winter and launch spring!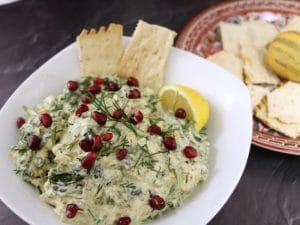 This healthy vegetarian dish, known as Borani Esfenaj, is a popular Persian appetizer and you'll soon see why. Loaded with nutrient-dense spinach and flavored with savory sautéed onions and shallots, this creamy yogurt dip is punctuated by crunchy walnuts. Pomegranate arils provide a lovely sweet-tart crunch to complement each bite. This dish is perfect to serve for dinner guests or as a healthy alternative to chips and store-bought dip during game day.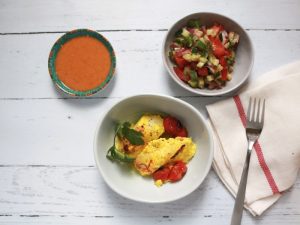 This month our chefs have created a Lemon Saffron Chicken dish that is elegant enough for a special dinner party, yet easy enough to make for a weeknight meal. The marinade is key as yogurt is a natural meat tenderizer and allows flavors to deeply penetrate the chicken. Saffron is a powerful, aromatic spice. A little goes a long way and we extend the flavor further by "blooming" saffron in hot water before using. The result is a simple, yet flavor-packed meal fragrant with lemon and saffron.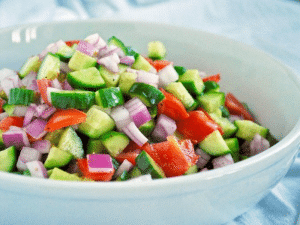 Persian Tomato Cucumber salad (also known as Salad Shirazi) is a standard item on Persian dinner tables. In fact, variants of this recipe are common across the Middle East. Loaded with nutrients, easy to customize, and packed with flavor, we say "let's make extra for tomorrow night, too!" If you want to make a heartier standalone "Persian Buddha Bowl" (if there is such a thing!) then add in chickpeas, lentils, couscous, or even shredded chicken.
For more recipes, check out the full list in our Global Cookbook.
Advieh is the all-purpose Persian spice blend used in myriad of dishes to elevate flavors with little work. Consider Advieh a utility knife: use directly as a rub on meats like lamb and chicken. Or, add to soups, stews, casseroles, or fish dishes. Specific Advieh recipes vary from region to region and even family to family, but what makes Advieh special are the seductive notes of dried, ground rose petals. They're a nice reminder that even simple dishes should make us take a minute out of our busy day to "stop and smell the roses". Contains: cumin, cinnamon, cardamom, black pepper, coriander, rose petals, and nutmeg.
Dried Persian Lime (Limu Omani), is made from lemons or small limes that are boiled in salt water and dried until rock hard. Dried Persian lime is immensley fragrant of concentrated citrus when crushed or ground. They imbue the stew with a more complex flavor than lemon or lime peel or juice and are a staple of Persian cooking. While immensely popular in the Middle East, dried Persian lime is not yet mainstream in North America except with serious spice hunters and in-the-know chefs (and now, Piquant Post subscribers!). Sprinkle in soups, stews, casseroles, or add to meats, fish, and even salads.
Our Persian Delight spice is a proprietary blend we created to showcase a number of essential flavors in Persian cuisine. Herbs such as dill and mint are used extensively. Turmeric not only provides a lovely earthy taste and orange hue, but is also thought to be an anti-inflammatory. Cinnamon and cardamom provide warm, exotic notes to balance the nutty cumin. Finally, our blend contains sumac, which lends its wonderful lemony-tart flavor to any dish. Serve with pita bread, crackers, or a veggie tray. Contains: turmeric, cumin, black pepper, spearmint, dill, sumac, cardamom, and cinnamon.
Saffron, one of the world's most expensive spices, is hand-harvested from stigmas of the flowers of the crocus plant. Each flower only contains three saffron threads. So, the labor-intensive production process drives up the cost. Chefs use saffron to imbue dishes with aroma, color, and flavor complexity. Some people think saffron tastes and smells like honey while others sense floral notes. The industry taste experts liken high-quality saffron to an "earthy-grassy almost bittersweet flavor" with "aroma like hay". Whatever we individually sense, the flavor is unmistakeable and quite lovely!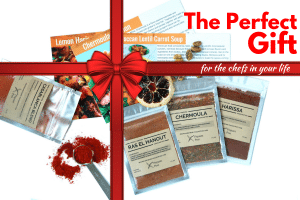 This year, give the gift of delicious meals from around the world! Our spice subscription sends 100% all-natural, no preservatives, no sugar, no additives, gluten-free spice blends and easy recipes. Perfect gift for all the home chefs in your life!