Ready for the complete breakdown of our November 2018 box? This month we're sending you some of our all time favorite spices and recipes. Grab some popcorn… let's get this reveal started!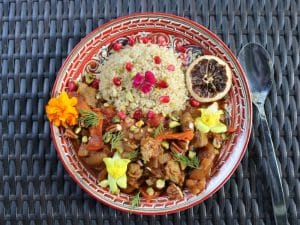 Tagine is a traditional North African stew as well as the conical-shaped clay pot used in the region to cook stews. Tagine recipes typically feature meats, fish, or vegetables braised in a rich broth spiked with exotic spices, dried fruit and nuts. Get ready for hypnotic scents wafting through your kitchen from cooking our Lamb Tagine with apricots recipe that will transport you to the enchanting alleys of old Casablanca and heighten the anticipation of a delicious meal to come.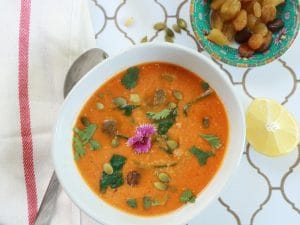 This recipe for a Moroccan-style red lentil soup is inspired by a traditional soup called 'Harira'. Not only is this dish packed with flavor and nutrients, our version is vegan and gluten-free – yet, hearty and easy enough to make on a busy weeknight. Our recipe stands up on its own, or you can customize with your favorite ingredients, from shredded chicken to pumpkin seeds to dried fruit. We think you'll keep this recipe handy to repeat again and again.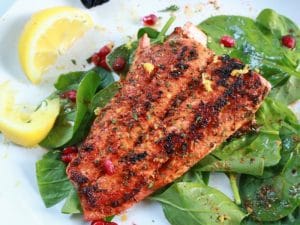 Used across North Africa, Chermoula is a flavor-packed marinade and condiment typically served with grilled or fried fish. Traditionally made by hand-grinding fresh herbs like cilantro and parsley together with garlic, preserved lemon and spices, the resulting pungent sauce can be spooned on fish as a marinade before cooking and also served table side as a lovely condiment. Our recipe for a Moroccan-inspired Chermoula Salmon teaches you the technique of pan-basting for faster cooking and achieving a crispy layer on juicy fish. Serve over a bed of lightly dressed mixed greens or grains with plenty of lemon on the side for an easy but delightful meal.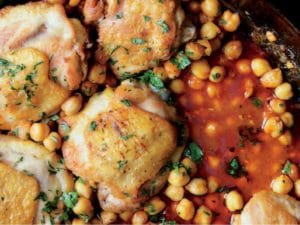 Harissa is a fiery, aromatic paste that is a staple in Moroccan (and all North African) cuisine. Typically made of smoked chilis ground with spices, garlic, and oil, the result is a flavor-packed paste with a medium-high heat. Perfect for use as a marinade on meats, it's also a seasoning in soups, stews / tagine, couscous, and used as a condiment. We've dialed back the heat in our blend to please most Western palates. Harissa has seen a surge in popularity around the world as chefs have started using Harissa in fusion dishes to add a lovely heat and bold flavor profile as you will find in this lemon harissa chicken recipe. Make a quick yogurt marinade in this recipe that penetrates flavor deeply into the meat. This recipe is easy enough to make on a busy weeknight and makes a standout meal for the effort.
For more recipes, check out the full list in our Global Cookbook.
Ras el Hanout is an Arabic phrase that means "Top Shelf". In other words, it's a spice blend that traditionally featured a spice shop's best and most exotic mix of spices, enhanced by alluring floral notes. Many authentic Ras el Hanout blends have 20 or more ingredients, and some over 100! Spice merchants and Moroccan grandmothers alike keep their recipes and ingredients a guarded secret. This blend is pure luxury; it's exotic and sure to please any refined palate. Contains: coriander, cinnamon, allspice, cumin, ancho, turmeric, black pepper, paprika, cardamom, mace, nutmeg, rose petals, fennel seed, anise seed, orris root, lavender, fenugreek, cloves, cayenne pepper, and bay leaf.
We work hard to create unique and healthy flavors, and this month we're sending you a proprietary spice blend we're calling 'Casablanca Blend'. Purposely designed to be versatile, you can quickly spike just about anything with authentic North African flavors with this blend. Smoked paprika imparts a smoky-earthy flavor that adds depth and complexity to any dish. Cumin adds a nutty note and we add a few whole cumin seeds in for a random nutty crunch. Coriander adds a wonderfully sweet fragrance and earthy-lemony profile. Finally, turmeric and ginger add depth to complement a warming heat from cayenne peppers. Contains: smoked paprika, cumin, cayenne pepper, coriander, turmeric, and ginger.
Traditional Chermoula is made by hand grinding spices and oil with fresh herbs like parsley and cilantro. We've done the hard work up-front by curating classic Moroccan spices and fresh-dried herbs to create a Chermoula spice blend that can be used directly as a rub or as the base spices for a more authentic Chermoula-herb sauce made with a food processor. Paprika, cumin, garlic, and cayenne pepper provide classic earthy-spicy-aromatic notes that you need in any Chermoula sauce, while the cilantro and parsley provide the herbaceous base. The flavors are punctuated by subtle, cooling spearmint and a citrus note from fresh-dried lemon peel. Contains: cilantro, parsley, paprika, cumin, spearmint, garlic powder, lemon peel, black pepper, coriander, and cayenne pepper.
Harissa is a fiery, aromatic paste that is a staple in Moroccan cuisine. Typically made of smoked chilis ground with spices, garlic, and oil, the result is a flavor-packed paste with a medium-high heat. Our Harissa blend is perfect to use directly or whisk together with oil to make a flavor-packed paste. Used as a marinade on meats, it's also a seasoning in soups, stews / tagine, couscous, and perfect as a condiment. Contains: guajillo chili, ancho chili, cumin, coriander, caraway seed, garlic powder, spearmint, and cayenne.
For an even easier way to incorporate these flavors into your stable of recipes, check out our spice blend subscription at Piquant Post. We send you expertly crafted flavor packets each month along with unique, curated recipes so you can spend less time planning / searching and more time enjoying your meals.
Sign up for our email list to get news, sneak peaks, and special promos and we'll send you a code good for 10% off your first order. Piquant Post also makes a perfect gift for foodies and home chefs!