Ready to see what was in the October 2018 box? This month we decided to split the theme between 2 neighboring (but very different) South American countries. Learn about the delicious recipes and spice blends in our October 2018 box reveal.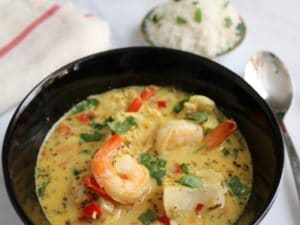 Moqueca (pronounced 'Moo-KAY-Kah' in Portuguese), is a typical Brazilian fish stew from the northern coastal state of Bahia. The climate in Bahia is tropical and, as you can imagine, seafood and tropical fruits play a big role in their dishes. Coconut milk is used in traditional recipes to provide a creamy, subtly sweet base for this stew of white fish and shrimp. Use our Tempero Baiano seasoning to add beautiful herbal notes with a warming heat profile for an authentic, yet easy stew the whole family will enjoy. For our friends who don't touch fish/shrimp, this dish also lends itself well to substitutions like chicken, sausage, or vegan ingredients like tofu or vegan fish balls.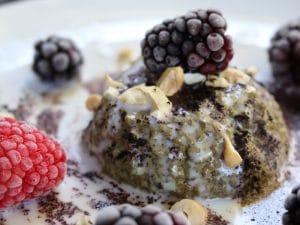 Acai (pronounced 'Ah-Sah-EEE' in Portuguese) is a berry from the Amazon jungle in Brazil. Commonly served as a frozen-smoothie in a cup with a spoon, acai has a very unique chocolate-berry taste that is downright addictive. This recipe, with not one but two superfoods, uses coconut milk with chia seeds and gelatine to create a slightly firmer texture to hold a panna cotta shape. Chia seeds have the unique ability to absorb up 10x their weight in fluids and this creates a pudding texture after about 4 hours of soaking. They're also packed with nutrients, fiber, and protein. There's no guilt in this dessert so have seconds!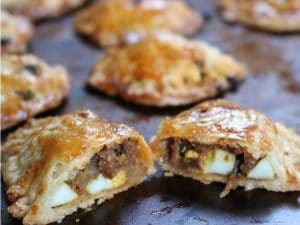 Empanadas are savory turnovers (pastry) originally from Spain that were brought to the New World colonies by Spanish immigrants. Throughout Spanish-speaking South America, empanadas are common snacks offered by bakeries as grab-n-go lunches for busy people during the work week and often cooked as a comfort food at home, too. Argentine-style empanadas are commonly filled with a spiced mince-meat, onions, olives or raisins, and chopped hard-boiled eggs. But there are endless variations for fillings, including vegetarian options. Use our Argentine Pampas spice blend to quickly season your filling of choice for a delicious, authentic treat!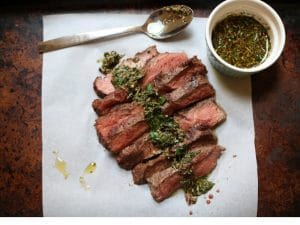 Argentina has a reputation as producing some of the best beef in the world, due to endless grasslands called 'Pampas' that cover the northern half of the country that serve home to millions of cattle. While steak pairs perfectly with a simple salt and pepper seasoning, in Argentina it is often served with an herbaceous oil and vinegar condiment called Chimichurri. It works equally well on grilled chicken, meats (including sausage and pork), fish, and grilled veggies. The red wine vinegar is bright but mild and perfectly complements the layers of flavor from the herbs, garlic, and mild chili heat.
For more recipes, check out the full list in our Global Cookbook.
Tempero Baiano is a seasoning originating from the northern Brazilian state of Bahia. It's used to add zest and flavor to soups, stews, fish, chicken and bean dishes. It adds lovely herb notes from the marjoram and basil, gorgeous earthy color from the turmeric, and a mild heat profile from the red chili flakes and white pepper that, in soups and stews, can slowly build as you work your way to the bottom of the broth.  Also great mixed with a little oil and used as a rub directly on fish. Contains: marjoram, Mexican oregano, basil, black pepper, nutmeg, turmeric, red pepper flakes, parsley, white pepper, and bay leaf.
Açai is a berry from a tree found in the Amazon jungle in Brazil that has grown immensely popular as a superfood packed with nutrients and anti-oxidants. It has a very unique chocolate-berry taste that is downright addictive. We've sourced a freeze-dried powder that retains its nutrients and flavor and combined it with some spices for a warm and tangy twist. Make an easy, delicious dessert with our recipe or add it to your favorite dessert recipe or even morning yogurt, oatmeal, or smoothie. Contains: Acai berry, cinnamon, nutmeg, tapioca, and citric acid.
We developed this proprietary spice blend to recreate the flavors common in spiced meats and roasted vegetable dishes from Argentina. It's perfect for spicing the filling in an empanada or even for making tacos. With a hint of smokiness, a very subtle warmth, and a lovely savory herb profile, we think you'll love this blend and find many more uses for it. Contains: thyme, smoked paprika, garlic powder, onion powder, marjoram, oregano, ancho chili, cumin, black pepper, and cayenne pepper.
Chimichurri is an herbaceous, flavor-packed condiment from Argentina that you'll want to have handy on your table along with a spoon to drizzle on each bite. It works equally well on steak, grilled chicken and other meats including sausage and pork, fish, and grilled veggies. We bend fresh dried herbs with the right combination of roasted garlic and red pepper flakes to create the authentic taste. Combine our blend with olive oil and red wine vinegar to whip up a sauce in seconds. Contains: parsley, oregano, basil, savory, black pepper, garlic, red pepper flakes.
For an even easier way to incorporate these flavors into your stable of recipes, check out our spice blend subscription at Piquant Post. We send you expertly crafted flavor packets each month along with unique, curated recipes so you can spend less time planning / searching and more time enjoying your meals.
Sign up for our email list to get news, sneak peaks, and special promos and we'll send you a code good for 10% off your first order. Piquant Post also makes a perfect gift for foodies and home chefs!