Ready for the Piquant Post September 2017 box reveal? Curious about what we ship? Yep… we deliver delicious!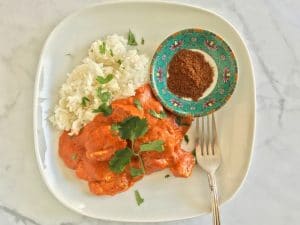 Chicken Tikka Masala serves up layers of flavors: the curry spices; smoky, lightly charred chunks of chicken; aromatics from fresh ginger and garlic; acidity from tomatoes and lemons; and a rich, buttery sauce that envelops and ties the flavors together. A global fusion dish that always pleases!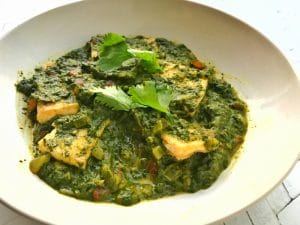 Saag Tofu is a variant of the popular Indian dish Saag Paneer, which many may recognize from their local Indian restaurant. Paneer is an Indian fresh cheese, similar to ricotta, but hard to find at the market. This dish is basically a spinach curry with lightly pan-fried chunks of tofu, providing a delicious and satisfying bite. The wonderful flavor is provided by the combination of our freshly-ground Garam Masala spices along with fresh aromatics: onions, ginger, and garlic. Healthy, vegetarian, naturally gluten-free and oh so good.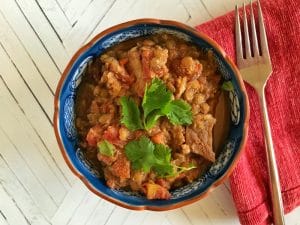 This lamb dal recipe starts by browning cubes of lamb shoulder, which are slowly braised in the liquid used to cook the lentils. We infuse a traditional flavor to the dish by adding our Madras Hot Curry spice blend and frying briefly in the oil to release the natural oils in the spices. We finish the dish by adding plain Greek Yogurt for a slightly creamier, tangier spoonful. The easiest global comfort food you will find.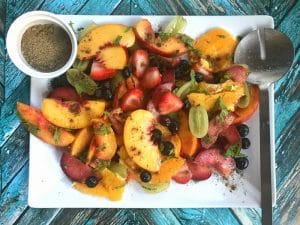 'Chaat' is a word that describes a set of savory, spiced snacks and, in reality, a category of food, ubiquitous throughout India from street carts to restaurants to the home dinner table. Also, chaats are almost always dusted with a magical spice blend called Chaat Masala, which elevates the snack to another level by adding an irresistible combination of sweet, salty, sour, and umami tastes. Finally, this fruit chaat recipe takes only minutes to prepare and delivers a delicious, authentic experience.
For more recipes, check out our full list in our Global Cookbook.
Beautifully fragrant when made with freshly-ground spices (as ours is!), Garam Masala means 'warming spices' in Hindi and is a staple on most households' tables in South Asia. The warming context comes not from fiery hot chiles, but rather spices that North Americans typically associate with baking: cinnamon, nutmeg, star anise, and cloves. We also add cardamom, coriander, cumin, black peppercorn, fennel seed, Ceylon cinnamon (cassia), and smoked paprika.
The Piquant Post Tikka Masala blend makes it a snap to whip up a tikka masala sauce, whether to make our Chicken Tikka Masala recipe or a vegan variant like cauliflower tikka masala. Comprised of fenugreek, black peppercorn, smoked paprika, Ceylon cinnamon (cassia), cardamom, ginger, and cloves, it also makes a great BBQ rub directly on pork and poultry before slapping on the grill.
One thinks of curry when thinking about Indian cuisine and we deliver our fresh take on the classic Madras Hot Curry. Perfect for pretty much any curry recipe, we add a little bit of heat with dried chiles. Despite the name, it's not over-the-top hot. Curry blends typically use mostly the same ingredients but it's the proportions that are closely guarded secrets. We use turmeric, coriander, cumin, chiles, Ceylon cinnamon (cassia), fenugreek, cardamom, black peppercorn, and curry leaf in our blend.
Chaat Masala, adds an irresistible combination of sweet, salty, sour, and umami tastes. Perfect for making any number of authentic 'chaat' recipes or just sprinkling over fresh fruit, cucumbers or lemonade for a unique twist. Our chaat blend combines fresh coriander, amchoor (green mango powder), cumin, black peppercorn, dried mint, ginger, chiles, fennel seed, and black salt.
For an even easier way to incorporate these flavors into your stable of recipes, check out our spice blend subscription at Piquant Post. We send you expertly crafted flavor packets each month along with unique, curated recipes so you can spend less time planning / searching and more time enjoying your meals.
Sign up for our email list to get news, sneak peaks, and special promos and we'll send you a code good for 10% off your first order. Piquant Post also makes a perfect gift for foodies and home chefs!