As we finish up shipping all of our orders, it's time for the September 2018 box reveal! Learn about the delicious recipes and spice blends in our September box.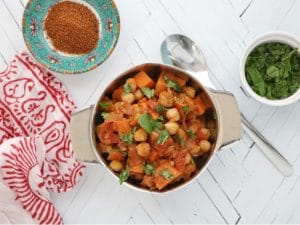 Chana Masala might be one of the most popular dishes in the world. If you haven't heard of it yet, then we're doing our part to bring this easy, healthy, and delicious meal to your table from India. If you have tried chana masala, we think you'll love our take, which includes sweet potato for a heartier meal. This recipe also happens to be vegan and easy to make using canned chickpeas. This dish is loaded with layers of flavor from the Indian essential spice blend Garam Masala as well as the 'holy trinity' aromatics of Indian cooking: ginger, garlic, and onions. Since most of the time is passive cooking (simmering the stew to soften the veggies and meld flavors), we think you'll enjoy adding this classic to your repertoire!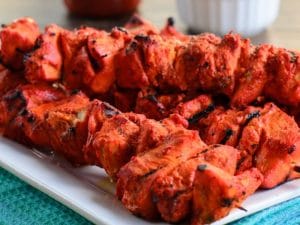 If you've ever eaten at an Indian buffet, you probably couldn't help but notice the fiery red-colored chicken in the lineup of dishes. That scarlet-hued delicacy is Tandoori Chicken, another Indian classic. The Tandoor is a cylindrical clay oven traditionally used for home-grilling meats. But you can use your BBQ grill or the broiler in your oven to make tandoori chicken skewers. The key to maximum flavor is pairing the right combination of spices (we got your back!) with a proper yogurt-based marinade, along with fresh ginger and garlic. Yogurt is a natural meat tenderizer and will help the spices and aromatics penetrate deep into the meat for max flavor in each bite. This flavor-packed dish is one the whole family will enjoy!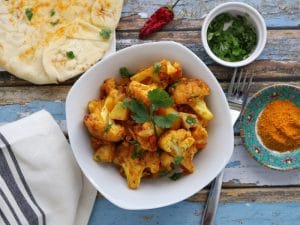 While there are endless varieties of curry, with different combinations of spices and core ingredients, Aloo Gobi is a perfect, basic vegetable curry to have in your arsenal. Originally from the far northern Punjab region of India, this dish has become a standard recipe on Indian menus across the world. Made with cauliflower and potatoes, its satisfying enough to be a one-pot meal. Easy to customize, you can add many ingredients you have on hand from green peas to squash to shredded chicken.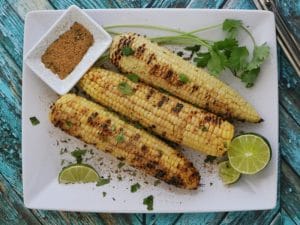 In India, 'Chaat' is a word that describes a set of savory-spiced snacks that are ubiquitous throughout the country from street carts to restaurants to the home dinner table. Similar to the concept of 'Tapas' in Spain, Chaats represent a category of food that can be enjoyed as a quick bite, a standalone meal, or as a series of small plates cobbled together for a full meal. They're often a combination of crunchy fried legumes like chickpeas, vegetables, potatoes, sweet potatoes, or fresh fruit (try our fresh fruit chaat recipe!). The common thread is that they are all dusted with a magical spice blend called Chaat Masala. Make this BBQ corn on the cob recipe (or char broiled if you use the oven) with chaat masala and fresh lime to elevate your sweet corn to an exotic sweet-sour dish that will make everyone smile.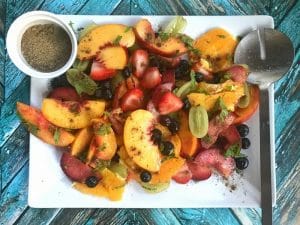 This fruit chaat (spiced fruit salad) recipe takes only minutes to prepare and delivers a delicious sweet-sour-savory chaat experience that will blow your Western mind. Chop up fresh mint and squeeze a fresh lime for an exotic fruit salad that will please the whole family. Our chaat masala blend is salt-free so you can season to your liking.
For more recipes, check out the full list in our Global Cookbook.
Garam Masala is an essential spice blend in South Asian cuisine. Wonderfully fragrant with a pleasant (but not overwhelming) heat, Garam Masala means 'warming spices' in Hindi and is a staple on most households' tables in India. The warming context comes not from fiery hot chiles, but rather spices that North Americans typically associate with baking: cinnamon, nutmeg, star anise, and cloves. Commonly used to season meats and poultry, dahls (lentil stews), and kormas (yogurt-based curries), its perfect for sprinkling in during cooking or tableside. We custom toast and grind our blend for maximum flavor and aroma. Contains: coriander, black pepper, cumin, fennel seed, star anise, cayenne, cinnamon, smoked paprika, cloves, cardamom, and nutmeg.
We developed this proprietary spice blend for an authentic Tandoori BBQ flavor. Restaurants often use red food color or dyes to produce the intense scarlet color, but we never use artificial ingredients. Through trial and error, we decided to use natural beet rood powder for the color and a subtle touch of sweetness to balance the warm and fragrant flavors from traditional Indian masala spices. Use our recipe to make a quick yogurt marinade to get the most authentic Tandoori flavor on your grilled meats. Contains: paprika, ginger, coriander, cumin, turmeric, nutmeg, garlic powder, beet root powder, cinnamon, cayenne, cloves, and cardamom.
The key to making a great Indian curry is having the freshest spices to toast and grind. With our Madras Hot Curry powder blend, we take care of all of the fuss for you! Starting  with turmeric for its intense orange color and earthy flavor, we add classic curry spices and cinnamon, fenugreek, and cardamom for a balanced touch of sweetness. While the name implies a fiery "Hot" spice, we add only enough ground chilis for a touch of heat that won't overpower the flavor. The spice flavors will "bloom" when adding the curry powder to the pan with your fresh aromatics (onion, garlic, and ginger).  This blend is the perfect Indian utility knife that you can use is just about any recipe calling for Indian spices. Contains: turmeric, coriander, cumin, black pepper, ginger, cardamom, cayenne, cinnamon, fenugreek, mustard seed, and curry leaf.
The authentic Indian Chaat Masala spice blend adds an irresistible combination of sweet, salty, sour, and savory tastes. We make our blend salt-free so you can adjust the sodium to your diet. The sour flavor comes from natural dried green mango powder (known in India as amchoor) and our addition of dried spearmint adds just the right amount of 'cool' for a unique twist. This blend is perfect for making any number of authentic 'chaat' recipes or simply sprinkling over fresh fruit, cucumbers, or even lemonade + soda for a refreshing, exotic mocktail. Contains: cumin, coriander, amchoor (dried green mango), spearmint, black pepper, ginger, cayenne, and fennel seed.
For an even easier way to incorporate these flavors into your stable of recipes, check out our spice blend subscription at Piquant Post. We send you expertly crafted flavor packets each month along with unique, curated recipes so you can spend less time planning / searching and more time enjoying your meals.
Sign up for our email list to get news, sneak peaks, and special promos and we'll send you a code good for 10% off your first order. Piquant Post also makes a perfect gift for foodies and home chefs!