If you're reading this, you've probably gone to take food photos with your phone and realized it looks nothing like your friends' #foodporn worthy posts. 
We all know the ones.
Don't worry, we're here to help. This post is your one-stop shop for all the photo tips from across the internet, so next time you want to share your meal, you'll be ready to go.
This is probably the most widely agreed upon tip for food photography. Ditch the flash and take advantage of natural lighting. According to the Iphone Photography School, the best time to shoot is when the light is soft such as late afternoon / early evening or morning to avoid harsh shadows from bright sunlight.
This is especially true for food photography. Nothing ruins food photos faster than orange lighting or dim restaurant photos with virtually no light.
When shooting inside, position your food near a window and adjust the blinds to let in light.  If the sun is casting shadows inside your house, hang a semi-translucent white pillow case or bedsheet to filter the light and reduce harsh shadows.
If there's no available natural light, be mindful of the artificial light you choose. Soft lamps and LED full spectrum lights will get better results than fluorescent or yellowy-incandescent ones. 
Full spectrum lights refers to having all the colors represented that naturally occur in daylight from the sun. Many artificial lamps skew too much towards one color; Fluorescent bulbs often case too much blue light making things look dull. Incandescent lamps skew too orange. You can find full spectrum LED lamps on Amazon that are commonly used by YouTubers and vloggers that work pretty well for food.
Placement of your lighting also impacts the shadows it casts. One technique for counterbalancing shadow cast by artificial lamps is using a white reflector to bounce light into the shadows. Placing white foamboard or posterboard opposite your lamp works great for this.
Know your angles. The most appealing food photos with your phone are often overhead, and you can capture the whole spread. Snapfluence advises to utilize straight-on shots mainly for vertically stacked dishes, like pancakes or a burger.
A visually appealing backdrop makes the photo pop! Try to fit your background to the aesthetic of the food. For example, wood cutting boards give a more rustic feel while classic white plates can be a vibrant pop on a contrasting dark background or with colorful food. Weatherbeaten wood picnic tables also add an outdoor, casual vibe.
As a general rule, try to use backdrops that are neutral and non-distracting.  If using a straight-on angle for vertical foods, adjust your focus on the dish to get the glossy, blurry background.
Using props is a delicate balance, but if done correctly, it can help capture the whole mood of the meal. Napkins, silverware, and tablecloths can all make a big difference. Play around with different place settings for color and style. Just be careful not to crowd the photo.
Other props can include the recipe ingredients themselves, drinks, condiment jars, or bunches of herbs. Just make sure that they don't distract! It's best to control focus on the main dish and keep the other ingredients in a blurry background or at the edges of the photo.
There's a reason professional chefs spend so much time agonizing over the art of the plating. Even in home kitchens, arranging the food just so makes for a better picture. Follow a Michelin star chef's advice and get creative with it!
Another hot tip for styling great food photos is to use drizzle condiments, sprinkle chopped herbs or nuts, or scatter other diced ingredients or seasonings around the plate to spark interest and visually communicate what's in the dish.
And it's not just for the photo. There's even evidence that suggests visually appealing food actually tastes better. 
Play around with the focusing capability on your phone. See if sharpening the food and softening the background makes a difference. This can also help emphasize texture, like a creamy carbonara. More tips here.
Most smartphones allow you to overlay a grid over the photo you're taking. On both iphone and android, the "grid" toggle is in your camera and phone settings. Turn it on and make sure your lines are straight, or adjust to the rule of thirds.
Whatever you do, don't zoom. There are plenty of apps that can help with the editing process (one of our favorites is Google's free mobile app called Snapseed). Some key photo edits to learn about are highlights, shadows, white balance, and tints. 
Fight the temptation to go overboard with editing, and try to let your photo look as natural as possible. If you shoot with soft natural light, you'll have much less need to edit anyways.
Sometimes leaving the cooking up to the professionals can lead to the perfect pic. Some tips: don't use flash (even when the lighting is dim), try to capture the meal exactly as it's served (phone eats first), and play with shadows when editing. If there is still daylight, ask for a table outside or near the window for best lighting.
Stand on a chair and ask your friends to keep some hands on their settings to get the perfect group overhead shot.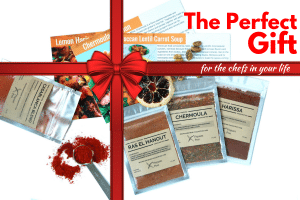 This year, give the gift of delicious meals from around the world! Our spice subscription sends 100% all-natural, no preservatives, no sugar, no additives, gluten-free spice blends and easy recipes. Perfect gift for all the home chefs in your life!