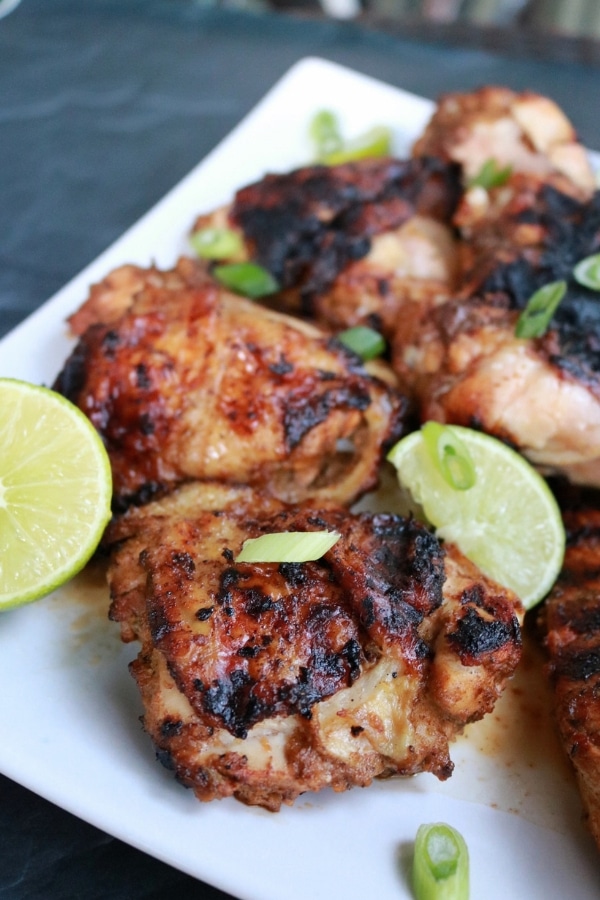 This Jerk Chicken recipe is a classic that any weekend BBQ warrior or weeknight family-pleaser needs in their repertoire. Jamaican Jerk is a spice blend that rightfully deserves first honors in the global flavor hall of fame. Renowned the world over, Jerk seasoning lends layers of flavor and heat to whatever you slather it on. We've dialed back the flames in our spice blend to give you control of how much heat you want. Dice up jalapeño, serrano, or habanero peppers, or add in cayenne pepper to your desired level.
This recipe shows you how to use our spice blend to make a classic jerk marinade for chicken. But you can also try this marinade on pork, beef, fish and even roasted vegetables like cauliflower. Jerk shines brightest with barbecued meats, where the smoky notes are the harmony to the flavor symphony. Using your oven broiler can also achieve some of the grilled flavor by getting a light char. Marinate the chicken for at least 30 minutes, but ideally overnight. We like skin-on thighs or drumsticks and wings, but breasts also work. You can use the Jerk directly on meats as a dry rub, but the marinade is worth a little extra effort.
2-2.5 lbs of chicken (thighs, drumsticks, wings and boneless breast pieces all work fine)

1 shallot, roughly chopped

3 scallions (entire stalks), roughly chopped

2 inch piece of fresh ginger, chopped or grated

3 cloves of garlic, roughly chopped

1 tbsp apple cider vinegar

1/4 cup olive oil

1 tbsp soy sauce

2 tbsp fresh lime juice (~1 lime)

1 tbsp brown sugar (optional)

salt & pepper to taste (optional)

1 tsp Piquant Post Scotch Bonnet Pepper flakes (hot!), 2 tsp red pepper flakes, 1 tsp cayenne pepper, or 1 fresh jalapeño pepper diced (optional heat)
Use any cuts of chicken you prefer or a mix of cuts (thighs, drumsticks, wings, etc). 
If you're in a hurry, you can marinate in as few as 20 mins but we think the flavor penetrates deeply starting at 60 mins. You can marinate up to 36 hours (covered) in the fridge.
Technique Tip: If you you want to achieve a light char using the oven broiler, set a timer and watch the meat carefully when broiling. Move rack 6 inches from broiler, then preheat oven. The goal is to lightly char the outside of the chicken (to achieve a delicious smoky flavor) but not burn or dry out the meat. In fact, the meat should not be completely cooked through after broiling. Broil the chicken 3-5 mins or until surface just begins to char, then flip and repeat. You will finish the cooking process in the oven at 400 deg for ~10-14 mins or until chicken reaches 165 deg internally. 
Traditional Jerk marinade is FIERY hot. We dial back the heat in our Jamaican Jerk spice blend to give you control over the heat. Add diced jalapeño, fresno, serrano, or habanero peppers to the food processor to ramp up the heat to your taste.
While you can use the jerk spice as a rub directly on meat or veggies, creating the marinade will add a lot of depth to the flavor due to the fresh aromatics (ginger, garlic, shallot), the saltiness of soy sauce, and the lovely tanginess of lime and apple cider vinegar.
Lastly, optional ingredients add a little character and flavor but don't sweat it if you don't have them.
First, season chicken with salt and pepper to taste. Place chicken in a large non-reactive bowl (or large ziploc bag).
Next, chop and prep remaining ingredients and combine everything except chicken in a food processor or blender. Process into a pureé. Then, pour the jerk marinade over the chicken and thoroughly mix to coat. Cover and refrigerate for at least 1 hour up to 36 hours.
If using an oven, preheat to 400 deg, then place chicken in an oven safe dish or a foil lined baking sheet. Cook the chicken for 20-25 minutes, or until it reaches an internal temp of 165 deg.
If grilling on BBQ, preheat the BBQ. Cook chicken for ~8-10 mins per side then flip and cook another 8-10 mins (or until chicken reaches 165 deg internal temp). Finally, serve with red beans and rice.
Jamaican Jerk Spice blend is extremely versatile. Use it directly as a rub or make the marinade in our recipe to slather on fish, sausage, shrimp, roasted veggies, or other meats.

Vegans/Vegetarians: try this 30 min Grilled Jerk Eggplant recipe. We think you could also get a similar result from grilled zucchini (not yet tried ourselves).

For a fun twist, try our flavor-packed Jerk Salmon Burgers with Rum Glaze recipe.

Finally, our recipe for Jerk marinade can also be used as a flavor-bomb table sauce or condiment (don't use marinade that was exposed to raw chicken, of course). Spoon on tacos, french fries, pizza, burgers, crockpot chili, meatballs, tofu, or toast. You're only limited by your imagination.

Post pictures of your masterpiece meal on social media and tag us. We repost!